Program Overview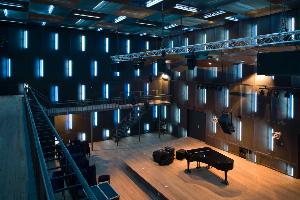 As a Music student, you'll flourish in the thriving arts environment of Amsterdam, a city known for its ability to embrace expressions of the human spirit.
Enrolling in the Conservatorium van Amsterdam, the largest and most diverse music conservatory in the Netherlands, integrates you fully into a specialized institution where you study with other students who are dedicated to the study of music.
The Conservatorium van Amsterdam takes full advantage of Amsterdam's established reputation in music to offer outstanding instruction in classical and jazz music performance, theory, and composition. The Conservatorium is dedicated to upholding superior standards of teaching, performing, and creating music through a highly-individualized course of study. It aims to train you to become a versatile musician at the highest level of professional musicianship.
Visit www.IESabroad.org for complete program details.
NOTE: Program dates listed in Studio Abroad are approximate. Please refer to IES Abroad predeparture materials for planning travel.
Why Amsterdam?
Known for its liberal views and open-minded attitude, the residents of Amsterdam welcome you to this cozy city. You'll adore the lovely canals and old European charm that make up the enchanting city of Amsterdam. Because the city planning hasn't changed much since the 19th century, you'll appreciate the architecture and historic homes that color the city. And you can't leave without seeing the windmills!
Student Life
Whether it's an orientation program that makes you feel prepared, housing that is well-located and comfortable, or the field trips that take you to places off the beaten path--we're all about our student services. To find out more specific details, click here and select the Student Life tab.
About IES Abroad
Everything we do is about the IES Abroad student. Our profoundly passionate team of study abroad professionals believes in creating once-in-a-lifetime educational adventures that transcend expectations. Our goal is to rock the world of some 6,000 study abroad students every year. From our headquarters in Chicago to our 115+ study abroad programs in more than 35 global locations worldwide, we create authentic global education and life-affirming cultural experiences.
Discover more about what we offer with all of our programs.
More Information:
www.IESabroad.org
Request a Catalog
Email an Advisor
Contact a Past Participant
Call us at 800.995.2300