Cape Town Summer – Health Studies
Program Overview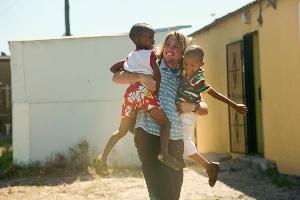 Surrounded by mountains and the sea near the southern tip of Africa, Cape Town is one of the world's most beautiful cities. It is also an ideal location to experience the dynamic change in a country that is highly developed, but where millions live in poverty. You witness and participate in the South African effort to deliver health care effectively to the country's poorer urban and rural residents.
Designed for students interested in health-related careers, this program enables you to examine health care delivery in South Africa. Field visits and placements in the townships surrounding Cape Town and a week-long rural excursion in the northern part of South Africa provide firsthand experience with the many health issues that plague South Africa, and the national effort to improve public health.
Visit www.IESabroad.org for complete program details.

Interested in seeing our Center through a Virtual Tour? Check it out here!
NOTE: Program dates listed in Studio Abroad are approximate. Please refer to IES Abroad predeparture materials for planning travel.
Why Cape Town?
Don't miss the once-in-a-lifetime chance to study abroad in one of the most beautiful cities on Earth. You'll love the crystal clear blue waters, the breathtaking mountains, and everything in between. But there's more to Cape Town than its beauty--its dynamic society is ever-changing and growing, and you can witness it first-hand. Immerse yourself in the African culture and explore one of the most diverse environments in the world. We know you'll agree that studying in Cape Town will make you feel like you're on top of the world.
Student Life
Whether it's an orientation program that makes you feel prepared, housing that is well-located and comfortable, or the field trips that take you to places off the beaten path--we're all about our student services. To find out more specific details, click here and select the Student Life tab.
About IES Abroad
Everything we do is about the IES Abroad student. Our profoundly passionate team of study abroad professionals believes in creating once-in-a-lifetime educational adventures that transcend expectations. Our goal is to rock the world of some 6,000 study abroad students every year. From our headquarters in Chicago to our 115+ study abroad programs in more than 35 global locations worldwide, we create authentic global education and life-affirming cultural experiences.
Discover more about what we offer with all of our programs.
More Information:
www.IESabroad.org
Request a Catalog
Email an Advisor
Contact a Past Participant
Call us at 800.995.2300