Program Overview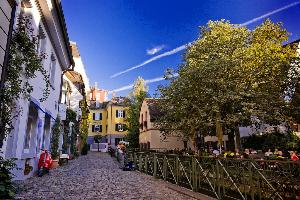 Tucked at the foot of the Black Forest, Freiburg is the quintessential southern German town, with its winding streets and historic architecture. It is also home to Albert-Ludwigs-Universität Freiburg, consistently rated one of the top universities in Germany. We invite you to study abroad in Freiburg and to immerse yourself in student life and German language in this vibrant university town.
Ideal for students interested in rapidly improving their German language skills, the IES Abroad Freiburg Program offers you IES Abroad and university courses taught in German by distinguished local faculty.
You can also enroll in courses at Albert-Ludwigs-Universität Freiburg or other local academic institutions where you will experience the German education system first-hand.
Visit www.IESabroad.org for complete program details.
NOTE: Program dates listed in Studio Abroad are approximate. Please refer to IES Abroad predeparture materials for planning travel.
Why Freiburg?
It is impossible not to fall in love with Freiburg. Maybe it's the curving cobblestone streets, medieval architecture, and beautiful cathedral. Or maybe it's the city's progressive mindset--Freiburg shows a remarkable commitment to the environment and the development of sustainable technologies. Either way, we invite you to study abroad in Freiburg and discover all there is to love about this enchanting university town.
Student Life
Whether it's an orientation program that makes you feel prepared, housing that is well-located and comfortable, or the field trips that take you to places off the beaten path--we're all about our student services. To find out more specific details, click here and select the Student Life tab.
About IES Abroad
Everything we do is about the IES Abroad student. Our profoundly passionate team of study abroad professionals believes in creating once-in-a-lifetime educational adventures that transcend expectations. Our goal is to rock the world of some 6,000 study abroad students every year. From our headquarters in Chicago to our 115+ study abroad programs in more than 35 global locations worldwide, we create authentic global education and life-affirming cultural experiences.
Discover more about what we offer with all of our programs.
More Information:
www.IESabroad.org
Request a Catalog
Email an Advisor
Contact a Past Participant
Call us at 800.995.2300