Program Overview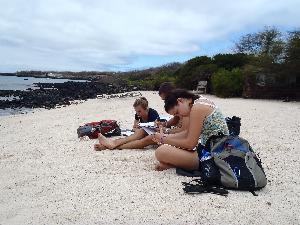 There's a reason why some of the world's most famous scientists have visited the Galápagos Islands—now it's your turn to discover one of the world's most beautiful and biologically-diverse island locations. It's here that you will get hands-on experience studying topics such as Biology, Ecology, Environmental Studies, Marine Ecology, and Sociology.
This direct enrollment program is organized through the Galápagos Academic Institute for the Arts and Sciences (GAIAS), a remote campus of the Universidad San Francisco de Quito (USFQ) located on the island of San Cristobal. Before you head to the Galápagos, the program will begin with a month in Quito, where you participate in an orientation, classes at USFQ, and field study excursions. The remaining months are spent on San Cristobal in the Galápagos Islands, although additional field study excursions allow you to spend time in other locations, as determined by your chosen track: Evolution, Ecology and Conservation; Marine Ecology; or People, Politics, and the Environment.
The Galápagos Islands and Quito will be your classroom. Witness the famous land iguanas and giant tortoises as you study the evolution of these unique species. Visit indigenous and traditional Andean communities to better understand the relationship between humans and their environment. Dive into the Pacific to get close to the marine life you will be learning about. Welcome to study abroad!
Visit www.IESabroad.org for complete program details.
NOTE: Program dates listed in Studio Abroad are approximate. Please refer to IES Abroad predeparture materials for planning travel.
Why the Galápagos Islands?
The Galápagos Islands hold endless wonders of natural beauty. Imagine stepping foot onto this mysterious dark land knowing it's an estimated 3.5 million years old. Yes, million. This environmental haven awaits you 600 miles off the coast of Ecuador—complete with sea lions, iguanas, and tortoises galore waiting to welcome you.
Student Life
Whether it's an orientation program that makes you feel prepared, housing that is well-located and comfortable, or the field trips that take you to places off the beaten path—we're all about our student services. To find out more specific details, click here and select the Student Life tab.
About IES Abroad
Everything we do is about the IES Abroad student. Our profoundly passionate team of study abroad professionals believes in creating once-in-a-lifetime educational adventures that transcend expectations. Our goal is to rock the world of some 6,000 study abroad students every year. From our headquarters in Chicago to our 115+ study abroad programs in more than 35 global locations worldwide, we create authentic global education and life-affirming cultural experiences.
Discover more about what we offer with all of our programs.
More Information:
www.IESabroad.org
Request a Catalog
Email an Advisor
Contact a Past Participant
Call us at 800.995.2300