Program Overview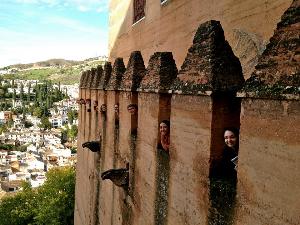 Many travelers who visit Granada insist it's the must-see city in all of Spain. With one of the clearest windows into Spain's unique historical symbiosis of Islam, Christianity, and Judaism, Granada is also a youthful city with a vibrant student life that will make meeting new friends even easier—Granada awaits!
Our curriculum takes full advantage of Andalusia and all southern Spain has to offer. The program offers two unique program options that are designed to improve your Spanish proficiency: the Intermediate Spanish Program and Advanced Spanish Program.
Visit www.IESabroad.org for complete program details.
NOTE: Program dates listed in Studio Abroad are approximate. Please refer to IES Abroad predeparture materials for planning travel.
Why Granada?
Prepare to be mesmerized by Granada's grand Moorish architecture and Muslim influences. This energetic city is also known for its youthful population. Enjoy wandering aimlessly around the city's narrow, winding streets in the warm weather and take in the sights and sounds of this great city.
Student Life
Whether it's an orientation program that makes you feel prepared, housing that is well-located and comfortable, or the field trips that take you to places off the beaten path—we're all about our student services. To find out more specific details, click here and select the Student Life tab.
About IES Abroad
Everything we do is about the IES Abroad student. Our profoundly passionate team of study abroad professionals believes in creating once-in-a-lifetime educational adventures that transcend expectations. Our goal is to rock the world of some 6,000 study abroad students every year. From our headquarters in Chicago to our 115+ study abroad programs in more than 35 global locations worldwide, we create authentic global education and life-affirming cultural experiences.
Discover more about what we offer with all of our programs.
More Information:
www.IESabroad.org
Request a Catalog
Email an Advisor
Contact a Past Participant
Call us at 800.995.2300