Program Overview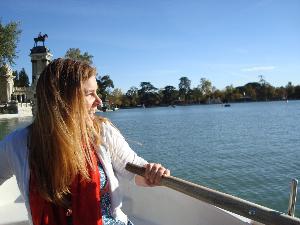 During a typical Madrid summer, throngs of madrileños flock to the streets of the city where they sip coffee on terrazas, sample tapas at the city's bars, or simply stroll and watch the parade of fashionable Spaniards. Every Sunday in the summer, the Plaza de las Ventas, Spain's largest stadium for corridas de toros (bull fights), features the country's leading toreros (bull fighters).The seat of Spain's government, Madrid is also a cultural center and home to many famous museums, including the Prado and the Reina Sofia, where Picasso's Guernica resides.
Over the course of the summer, you will come to know the city's vibrant plazas and winding streets for yourself. IES Abroad's Madrid Summer Program offers enrollment in IES Abroad courses, housing in student apartments as well as in homestays with local families, extracurricular activities, and field trips.
Visit www.IESabroad.org for complete program details.
NOTE: Program dates listed in Studio Abroad are approximate. Please refer to IES Abroad predeparture materials for planning travel.
Why Madrid?
We dare you to get bored in Madrid—you can wander around the Plaza Mayor, visit the city's many churches and cathedrals, enjoy the sunshine in one of Madrid's many parks, see a Flamenco show, watch a Real Madrid soccer game, taste the city's unique cuisine—should we go on? Not only is Madrid the capital city of Spain, it's also the heart of the country. Located in the center of Spain, Madrid is a great starting point to explore this gorgeously diverse country. Have you packed your bags yet?
Student Life
Whether it's an orientation program that makes you feel prepared, housing that is well-located and comfortable, or the field trips that take you to places off the beaten path—we're all about our student services. To find out more specific details, click here and select the Student Life tab.
About IES Abroad
Everything we do is about the IES Abroad student. Our profoundly passionate team of study abroad professionals believes in creating once-in-a-lifetime educational adventures that transcend expectations. Our goal is to rock the world of some 6,000 study abroad students every year. From our headquarters in Chicago to our 115+ study abroad programs in more than 35 global locations worldwide, we create authentic global education and life-affirming cultural experiences.
Discover more about what we offer with all of our programs.
More Information:
www.IESabroad.org
Request a Catalog
Email an Advisor
Contact a Past Participant
Call us at 800.995.2300