Program Overview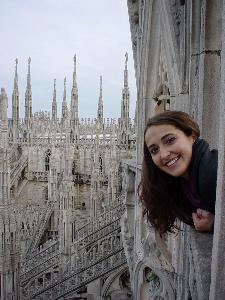 Known as the business capital of Italy, Milan is the place to study abroad for Business majors. This great city is home to Italy's main stock exchange, the Borsa Italiana, and famous international businesses like Giorgio Armani, Bugatti, and Pirelli. Our Business Studies Program allows you to take courses in Business, Finance, Marketing, Economics, and Banking at the top Italian universities.
We provide one-of-a-kind courses that explore the world of business, as well as a wide variety of courses focusing on contemporary issues in Italy. Take an elective in Art History, Political Science, or Photography to create a diverse course load, or combine your coursework with a hands-on internship. Take a course in Italian economics at one of the top business schools in the world. All IES Abroad courses are taught by well-known experts in their fields, and are conducted in English. We also offer a guest lecture series and an extensive list of field study opportunities that help you learn more about the Italian business culture.
Round out your study abroad education with the required Italian language classes that are tailored to your skill level. You can also enroll in a local university course to learn about international business alongside Italian and international students.
Visit www.IESabroad.org for complete program details.
NOTE: Program dates listed in Studio Abroad are approximate. Please refer to IES Abroad predeparture materials for planning travel.
Why Milan?
Think of your study abroad experience as a song—what will be the inspiration? See "The Last Supper," one of the most influential works of the Renaissance. Witness some of the world's finest performers at Teatro alla Scala, the world-renowned opera house in a href="//www.iesabroad.org/study-abroad/milan" target="_blank">Milan. Observe fashion executives to see how successful businesses are run. No matter what you choose, your Milanese experience with IES Abroad will come together to make the perfect symphony.
Student Life
Whether it's an orientation program that makes you feel prepared, housing that is well-located and comfortable, or the field trips that take you to places off the beaten path—we're all about our student services. To find out more specific details, click here and select the Student Life tab.
About IES Abroad
Everything we do is about the IES Abroad student. Our profoundly passionate team of study abroad professionals believes in creating once-in-a-lifetime educational adventures that transcend expectations. Our goal is to rock the world of some 6,000 study abroad students every year. From our headquarters in Chicago to our 115+ study abroad programs in more than 35 global locations worldwide, we create authentic global education and life-affirming cultural experiences.
Discover more about what we offer with all of our programs.
More Information:
www.IESabroad.org
Request a Catalog
Email an Advisor
Contact a Past Participant
Call us at 800.995.2300