Program Overview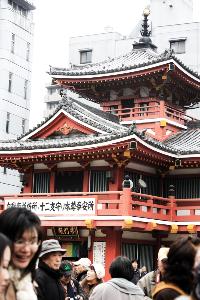 Tradition meets modernity in the thriving Japanese city of Nagoya. Countless cultural traditions began in Nagoya and have been passed down through generations—the city is referred to as Geidokoro, a center for art and culture. Don't miss the rituals and festivals that take place at temples and shrines in the Nagoya area.
Immerse yourself in Japanese culture through full-time enrollment at the Center for Japanese Studies (CJS) at Nanzan University. As a distinguished private university, Nanzan University offers excellent learning opportunities. In addition to a required intensive Japanese language class, you will choose from a range of CJS English-taught course offerings in Business, Humanities, and Social Sciences, and enjoy hands-on instruction in Japanese arts such as ikebana, shodo, hanga, and sumie. Students with very advanced language skills are encouraged to enroll in seminars taught in Japanese with local students.
Visit www.IESabroad.org for complete program details.
NOTE: Program dates listed in Studio Abroad are approximate. Please refer to IES Abroad predeparture materials for planning travel.
Why Nagoya?
Yearning to immerse yourself in Japanese language and history near the heart of cultural japan? Join us in Nagoya. The fourth-largest city and the hub of Japanese manufacturing industries in Japan has plenty of festivals, traditional arts, and sports to enjoy. Be sure to visit Nagoya Castle and Atsuta Shrine, two beautiful and culturally significant landmarks, to help you gain a better understanding of Nagoya.
Student Life
Whether it's an orientation program that makes you feel prepared, housing that is well-located and comfortable, or the field trips that take you to places off the beaten path—we're all about our student services. To find out more specific details, click here and select the Student Life tab.
About IES Abroad
Everything we do is about the IES Abroad student. Our profoundly passionate team of study abroad professionals believes in creating once-in-a-lifetime educational adventures that transcend expectations. Our goal is to rock the world of some 6,000 study abroad students every year. From our headquarters in Chicago to our 115+ study abroad programs in more than 35 global locations worldwide, we create authentic global education and life-affirming cultural experiences.
Discover more about what we offer with all of our programs.
More Information:
www.IESabroad.org
Request a Catalog
Email an Advisor
Contact a Past Participant
Call us at 800.995.2300