Program Overview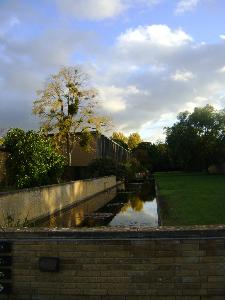 Imagine yourself sitting in class, listening to your professor lecturing about Shakespeare's plays or Winston Churchill's policies. But you're not at your home university—you're learning in England, where these famous figures lived. This is your chance to study at one of the most renowned universities in the world: the University of Oxford.
Our program offers you the opportunity to directly enroll in St. Catherine's College, one of the 38 self-governing colleges that together make up the University of Oxford. In 2013, the University of Oxford ranked as the 4th best university in the world, according to Times Higher Education.
Enjoy studying at one of the oldest universities in the world—teaching existed here in some form as early as 1096. Today, Oxford has a total student population of more than 21,000, with more than 140 nationalities represented in its student body, and is a renowned seat of learning and tradition. The student body at the University of Oxford is diverse, as well as its professors—about 40% of the University's academic staff are citizens of countries other than the United Kingdom.
Visit www.IESabroad.org for complete program details.
NOTE: Program dates listed in Studio Abroad are approximate. Please refer to IES Abroad predeparture materials for planning travel.
Why Oxford?
Located just 60 miles from the hustle and bustle of London, Oxford is home to the world-renowned University of Oxford, one of the oldest and most prestigious universities of the English-speaking world. Not only is there much to see and do on the University of Oxford campus, you'll enjoy the nature walks of this very green city, stroll through town observing the diverse English architecture, and sightseeing such historic gems as Carfax Tower, the University Church of St. Mary the Virgin, and Bodleian Library.
Student Life
Whether it's an orientation program that makes you feel prepared, housing that is well-located and comfortable, or the field trips that take you to places off the beaten path—we're all about our student services. To find out more specific details, click here and select the Student Life tab.
About IES Abroad
Everything we do is about the IES Abroad student. Our profoundly passionate team of study abroad professionals believes in creating once-in-a-lifetime educational adventures that transcend expectations. Our goal is to rock the world of some 6,000 study abroad students every year. From our headquarters in Chicago to our 115+ study abroad programs in more than 35 global locations worldwide, we create authentic global education and life-affirming cultural experiences.
Discover more about what we offer with all of our programs.
More Information:
www.IESabroad.org
Request a Catalog
Email an Advisor
Contact a Past Participant
Call us at 800.995.2300