Program Overview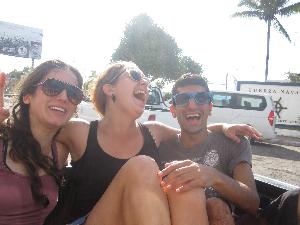 Quito is perfect for the adventurous soul. With its surrounding mountains, you're always just a climb away from a breathtaking view of the valley and from a bird's-eye view of the colonial Spanish architecture that makes the city famous. Plus, Quito is a great base for trips to the rainforests and marine habitats that make Ecuador famous around the world. We invite you to Ecuador to improve your Spanish while enjoying all that this amazing city has to offer.
While in Quito, you will directly enroll at the Universidad San Francisco de Quito (USFQ) and take all of your courses at the University. Because USFQ offers nearly 1,500 courses each semester in a wide variety of disciplines, students with almost any academic interest can find exciting and challenging enrollment options.
Visit www.IESabroad.org for complete program details.
NOTE: Program dates listed in Studio Abroad are approximate. Please refer to IES Abroad predeparture materials for planning travel.
Why Quito?
Sit back, relax, and dream about the adventures that await you in Ecuador. First, imagine exploring Quito's vibrant neighborhoods and admiring the beautiful colonial Spanish architecture that makes the city a UNESCO World Heritage Site. Next, picture yourself studying the ecological diversity of the Galápagos Islands, standing on the equator in Mitad del Mundo, and hiking the mountain rainforest in Loja Province. Pack your bags now—South America awaits you.
Student Life
Whether it's an orientation program that makes you feel prepared, housing that is well-located and comfortable, or the field trips that take you to places off the beaten path—we're all about our student services. To find out more specific details, click here and select the Student Life tab.
About IES Abroad
Everything we do is about the IES Abroad student. Our profoundly passionate team of study abroad professionals believes in creating once-in-a-lifetime educational adventures that transcend expectations. Our goal is to rock the world of some 6,000 study abroad students every year. From our headquarters in Chicago to our 115+ study abroad programs in more than 35 global locations worldwide, we create authentic global education and life-affirming cultural experiences.
Discover more about what we offer with all of our programs.
More Information:
www.IESabroad.org
Request a Catalog
Email an Advisor
Contact a Past Participant
Call us at 800.995.2300