Program Overview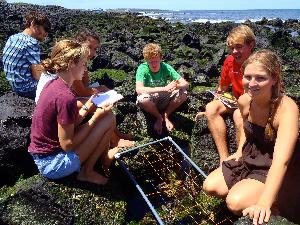 Although Ecuador is only about the size of Colorado, it is one of the most ecologically diverse countries on the planet. Four eco-regions—the Amazon basin, the high Andes, the coastal plain, and the Galápagos Islands—offer a wealth of flora and fauna that attract biologists, botanists, and environmentalists from around the world. In addition to the country's natural riches, Quito is an architectural jewel known for the warmth and hospitality of its residents.
Based in Quito and featuring three weeks of field study in the Galápagos Islands, this program allows you to study issues of environmental management and preservation, while exploring Ecuador's rich ecology. The program is organized in cooperation with the Galápagos Academic Institute for the Arts and Sciences (GAIAS) and the Universidad San Francisco de Quito (USFQ). All Environmental Studies courses are taught in English, and previous Spanish study is not required.
Visit www.IESabroad.org for complete program details.
NOTE: Program dates listed in Studio Abroad are approximate. Please refer to IES Abroad predeparture materials for planning travel.
Why Quito?
Sit back, relax, and dream about the adventures that await you in Ecuador. First, imagine exploring Quito's vibrant neighborhoods and admiring the beautiful colonial Spanish architecture that makes the city a UNESCO World Heritage Site. Next, picture yourself studying the ecological diversity of the Galápagos Islands, standing on the equator in Mitad del Mundo, and hiking the mountain rainforest in Loja Province. Pack your bags now—South America awaits you.
Student Life
Whether it's an orientation program that makes you feel prepared, housing that is well-located and comfortable, or the field trips that take you to places off the beaten path—we're all about our student services. To find out more specific details, click here and select the Student Life tab.
About IES Abroad
Everything we do is about the IES Abroad student. Our profoundly passionate team of study abroad professionals believes in creating once-in-a-lifetime educational adventures that transcend expectations. Our goal is to rock the world of some 6,000 study abroad students every year. From our headquarters in Chicago to our 115+ study abroad programs in more than 35 global locations worldwide, we create authentic global education and life-affirming cultural experiences.
Discover more about what we offer with all of our programs.
More Information:
www.IESabroad.org
Request a Catalog
Email an Advisor
Contact a Past Participant
Call us at 800.995.2300