Program Overview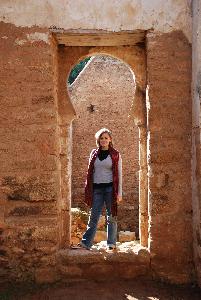 As you walk the boulevards of Rabat, it's hard not to be enchanted by the mystery and tradition of this timeless city. From the bustling souqs and energizing atmosphere of the city to the serenity of the surrounding mountains and sea, Rabat is an ideal place to learn about the languages, cultures, and religions of North Africa and the Arab world.
Delve into the fascinating layers of this North African nation as you learn Modern Standard Arabic with courses at the beginning, intermediate, and advanced levels. Learn Colloquial Moroccan Arabic to communicate with local Moroccans, and if you have already taken advanced French, you can take French-taught area studies courses at the IES Abroad Center or local universities. Our area studies courses focus on North African and Islamic Studies and introduce you to the many influential forces shaping the history and culture of Morocco.
Visit www.IESabroad.org for complete program details.
NOTE: Program dates listed in Studio Abroad are approximate. Please refer to IES Abroad predeparture materials for planning travel.
Why Rabat?
Chances are you're craving a new way of learning—a new way of seeing the world. Consider studying somewhere exotic, somewhere with a melting pot of cultures and influences; somewhere that's located close to ancient ruins, the beach and the mountains; somewhere with a rich history, but definitely a modern flair, too. You can have all of this and so much more when you study abroad in Rabat.
Student Life
Whether it's an orientation program that makes you feel prepared, housing that is well-located and comfortable, or the field trips that take you to places off the beaten path—we're all about our student services. To find out more specific details, click here and select the Student Life tab.
About IES Abroad
Everything we do is about the IES Abroad student. Our profoundly passionate team of study abroad professionals believes in creating once-in-a-lifetime educational adventures that transcend expectations. Our goal is to rock the world of some 6,000 study abroad students every year. From our headquarters in Chicago to our 115+ study abroad programs in more than 35 global locations worldwide, we create authentic global education and life-affirming cultural experiences.
Discover more about what we offer with all of our programs.
More Information:
www.IESabroad.org
Request a Catalog
Email an Advisor
Contact a Past Participant
Call us at 800.995.2300