Program Overview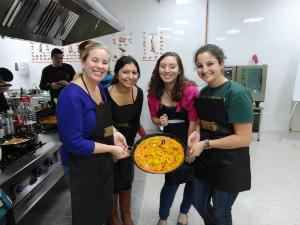 Add the atmosphere of a university town and the hospitality and charm of a small city and you have Salamanca. Declared a UNESCO World Heritage Site in 1988, Salamanca is the most important university city in Spain and is known for its contributions to Spanish language education.
The program is closely linked to the academic and social life of the Universidad de Salamanca (USAL), the oldest university in Spain and one of the most prestigious in Europe. Learn alongside your Spanish peers by enrolling in at least one class at USAL or the Universidad Pontificia de Salamanca (UPSA). Regardless of your major, you may combine your interests in linguistic and cultural proficiency with your academic pursuits.
Visit www.IESabroad.org for complete program details.
NOTE: Program dates listed in Studio Abroad are approximate. Please refer to IES Abroad predeparture materials for planning travel.
Why Salamanca?
Stroll through Salamanca's Old City (a UNESCO World Heritage Site!), and you'll get lost in the beauty of the aged architecture, like the Baroque styling of the Plaza Mayor in the heart of the city. Many people flock to this university town because Salamancans' Spanish is one of the easiest to understand, making it easy for you to communicate and experience a full immersion into the Spanish culture.
Student Life
Whether it's an orientation program that makes you feel prepared, housing that is well-located and comfortable, or the field trips that take you to places off the beaten path—we're all about our student services. To find out more specific details, click here and select the Student Life tab.
About IES Abroad
Everything we do is about the IES Abroad student. Our profoundly passionate team of study abroad professionals believes in creating once-in-a-lifetime educational adventures that transcend expectations. Our goal is to rock the world of some 6,000 study abroad students every year. From our headquarters in Chicago to our 115+ study abroad programs in more than 35 global locations worldwide, we create authentic global education and life-affirming cultural experiences.
Discover more about what we offer with all of our programs.
More Information:
www.IESabroad.org
Request a Catalog
Email an Advisor
Contact a Past Participant
Call us at 800.995.2300