Program Overview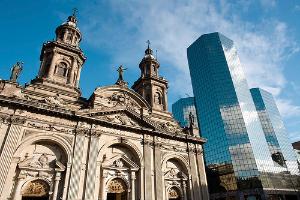 Surrounded by snow-capped mountains, Santiago is a sophisticated, modern city with a population of more than six million residents. It is also the capital of Chile, the country with one of the strongest economies in South America.
Because Chile offers its residents a community-centered public health care system, studying in Santiago offers you the opportunity to spend a summer gaining unique medically-related experience, as well as an appreciation for culturally-based health care practices and attitudes toward health.
Designed for advanced Spanish students in health-related majors, this program offers you valuable insight into Santiago's health care system. Develop experience through clinical observation and participation in public health care projects, while improving your communication skills through a Spanish course for health practitioners. All courses are conducted in Spanish.
Visit www.IESabroad.org for complete program details.
NOTE: Program dates listed in Studio Abroad are approximate. Please refer to IES Abroad predeparture materials for planning travel.
Why Santiago?
When you step off the plane in Santiago, you'll be mesmerized by the towering Andes Mountains—and at how the city of Santiago sits neatly below them, contentedly bringing together Chile's colonial past and its new role as the country's commercial center. During your stay, see a fútbol game, taste asado Chileno, experience the innovative music scene, and take in the many sides of Chilean culture.
Student Life
Whether it's an orientation program that makes you feel prepared, housing that is well-located and comfortable, or the field trips that take you to places off the beaten path—we're all about our student services. To find out more specific details, click here and select the Student Life tab.
About IES Abroad
Everything we do is about the IES Abroad student. Our profoundly passionate team of study abroad professionals believes in creating once-in-a-lifetime educational adventures that transcend expectations. Our goal is to rock the world of some 6,000 study abroad students every year. From our headquarters in Chicago to our 115+ study abroad programs in more than 35 global locations worldwide, we create authentic global education and life-affirming cultural experiences.
Discover more about what we offer with all of our programs.
More Information:
www.IESabroad.org
Request a Catalog
Email an Advisor
Contact a Past Participant
Call us at 800.995.2300