Program Overview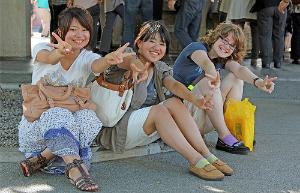 As one of the world's largest metropolitan areas, Tokyo and its environs will challenge you to look at the world differently. Mastering public transportation, trying exotic foods, encountering the maximum urban environment that surrounds carefully nurtured gardens and parks, experiencing a lifestyle that combines fast-paced modernity with age-old traditions—all of these will expand your view of the world and offer insights into your own reality.
This program is excellent for serious students at all levels who seek to study Japanese language in an intensive course and delve into an exciting exploration of Japanese culture.
Visit www.IESabroad.org for complete program details.
NOTE: Program dates listed in Studio Abroad are approximate. Please refer to IES Abroad predeparture materials for planning travel.
Why Tokyo?
Explore centuries-old temples, gardens, and castles that are only minutes from ultra-modern skyscrapers, electronics stores, and haute couture fashion centers. Dine on sushi and tempura, attend a sumo match or a baseball game, and learn tea ceremony, karate, or breakdancing. Take classes in the town of Makuhari, on the tip of Tokyo Bay, and just 45 minutes from the heart of the city. All of this and so much more awaits you in Tokyo!
Student Life
Whether it's an orientation program that makes you feel prepared, housing that is well-located and comfortable, or the field trips that take you to places off the beaten path—we're all about our student services. To find out more specific details, click here and select the Student Life tab.
About IES Abroad
Everything we do is about the IES Abroad student. Our profoundly passionate team of study abroad professionals believes in creating once-in-a-lifetime educational adventures that transcend expectations. Our goal is to rock the world of some 6,000 study abroad students every year. From our headquarters in Chicago to our 115+ study abroad programs in more than 35 global locations worldwide, we create authentic global education and life-affirming cultural experiences.
Discover more about what we offer with all of our programs.
More Information:
www.IESabroad.org
Request a Catalog
Email an Advisor
Contact a Past Participant
Call us at 800.995.2300