Program Overview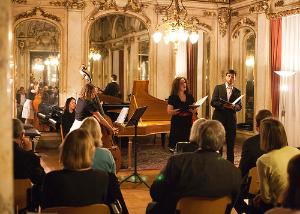 Located in the heart of Europe, Vienna is a city of about 1.8 million inhabitants that has, since its founding in the 3rd century, served as a bridge between a myriad of cultures. As an important crossroads between North and South, East and West, the city became a natural melting pot for new ideas. Out of this cultural richness has emerged a wealth of artistic accomplishments and innovative thinking—a heritage that we explore in our summer programs.
Vienna has been home to many of history's greatest composers, from Haydn, Mozart, and Beethoven to Brahms, Mahler, and Schoenberg. To this day, the world-renowned Vienna Philharmonic Orchestra, the Musikverein, and the Staatsoper continue to help make Vienna a true "city of music."
Study Music History and Performance in Vienna, a city recognized around the world for its influence on the development of classical music.
Visit www.IESabroad.org for complete program details.
NOTE: Program dates listed in Studio Abroad are approximate. Please refer to IES Abroad predeparture materials for planning travel.

Interested in seeing our Center through a Virtual Tour? Check it out here!
Why Vienna?
We'd like to let you in on a little secret: Vienna is extraordinary. Quickly—gather your things and study there before more students realize what a hidden gem it is. Consistently rated one of the top cities in the world to live in, come see for yourself why the music, culture, and history of this world-class city elicit nothing but adoration from those who go there.
Student Life
Whether it's an orientation program that makes you feel prepared, housing that is well-located and comfortable, or the field trips that take you to places off the beaten path—we're all about our student services. To find out more specific details, click here and select the Student Life tab.
About IES Abroad
Everything we do is about the IES Abroad student. Our profoundly passionate team of study abroad professionals believes in creating once-in-a-lifetime educational adventures that transcend expectations. Our goal is to rock the world of some 6,000 study abroad students every year. From our headquarters in Chicago to our 115+ study abroad programs in more than 35 global locations worldwide, we create authentic global education and life-affirming cultural experiences.
Discover more about what we offer with all of our programs.
More Information:
www.IESabroad.org
Request a Catalog
Email an Advisor
Contact a Past Participant
Call us at 800.995.2300