Program Overview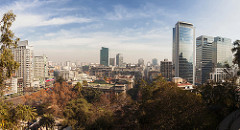 Learn about the accelerated pace of globalization and economic growth of two very distinct cultures when you spend a semester in Buenos Aires and Santiago. Both serve as models for both the pitfalls and opportunities surrounding emerging economies in transition within the global marketplace.
The program begins with orientation in Buenos Aires, where the first half of the program is held, followed by a week-long, course-related trip to Peru, and the second half of the program in Santiago.
Visit www.IESabroad.org for complete program details.
NOTE: Program dates listed in Studio Abroad are approximate. Please refer to IES Abroad predeparture materials for planning travel.
Why Buenos Aires & Santiago?
Studying abroad in Santiago and Buenos Aires will turn these locations in global classrooms. Imagine visiting Chilean local business organizations as part of your study of regional and global trade. Or meeting business professionals in Buenos Aires, who can speak to you first-hand about how the city is poised to emerge as one Latin America's strongest economies following the implementation of new fiscal policies and restructuring of debt. All of this is possible when you spend a semester in Buenos Aires and Santiago.
Student Life
Whether it's an orientation program that makes you feel prepared, housing that is well-located and comfortable, or the field trips that take you to places off the beaten path--we're all about our student services. To find out more specific details, click here and select the Student Life tab.
About IES Abroad
Everything we do is about the IES Abroad student. Our profoundly passionate team of study abroad professionals believes in creating once-in-a-lifetime educational adventures that transcend expectations. Our goal is to rock the world of some 6,000 study abroad students every year. From our headquarters in Chicago to our 115+ study abroad programs in more than 35 global locations worldwide, we create authentic global education and life-affirming cultural experiences.
Discover more about what we offer with all of our programs.
More Information:
www.IESabroad.org
Request a Catalog
Email an Advisor
Contact a Past Participant
Call us at 800.995.2300